Cubis Pro MINI Tank // 2.0ml
$16.50 AUD Was $22.95 AUD
Hurry! Only 5 left at this price!
The Cubis Pro Mini is the technically older, but smaller, brother of the fantastic Cubis Tank, with a redesigned Airflow Control System and upgraded capacity to 2.0ml.
Well, Joyetech have been absolutely knocking it out of the park recently with their products. The Cubis is an absolutely leak-proof tank. Yes, it sounds impossible. I know, I didn't believe it, either.

But they have completely sealed the bottom of the tank, and re-directed airflow from the top. When you change coils, your tank sits there, full of liquid, like an open cup. Incredible. ANYWAY, you got me rambling...
Specifications:
Size: 22mm x 47mm
Capacity: 2.0ml
What's in the box:
1 x Cubis Pro Mini Atomizer


1 x BF SS16-0.5ohm DL

1 x

LVC Clapton-1.5ohm MTL

1 x

Manual

1 x

Warning Card

1 x

Warranty Card
The innovative and leak resistant cup design ensures a No-Spill atomizer.
The completely leak resistant cup-style tank reservoir allows the top section and coil to be removed and as one solid unit. Coil replacement and juice fill can be achieved by removing this top section from the cup.
Redesigned Airflow Control System
We redesigned the airflow control structure which allows larger airflow inlet directly from both sides.
Simply rotate the airflow ring clockwise or counter-clockwise to adjust the airflow inlet.
It is elegant in appearance and convenient in operation.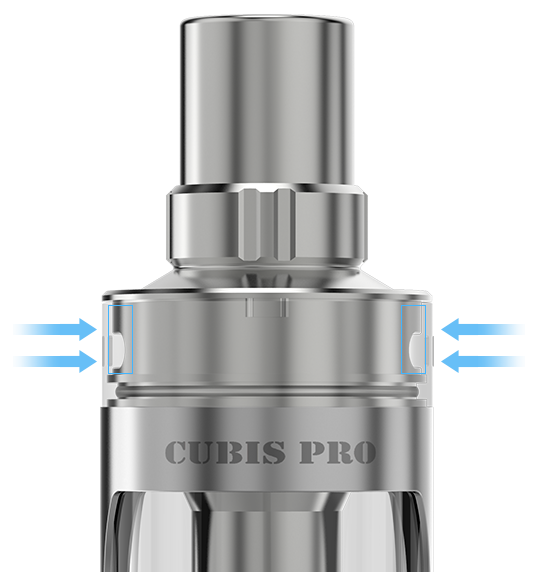 Detachable and Washable Structure
With its special structure, The CUBIS Pro Atomizer can be easily detached and is able to wash separately.